Can you believe it will be Thanksgiving soon!! Do you entertain for the Holidays?
Do you like a quick
little change for company?
Never fear ~ No Sew Slip Cover is here!!
10 easy steps from start to finish!
This is how I cover my sofa. I used 2 drop cloths and 1 chenille bedspread. If you have a quilt long enough to cover the cushions, that would be pretty too!! Or you can use 3 drop cloths for the entire thing. Read the entire project then put in motion one step at a time. Then come back and tell me all about it, send me a photo! One lucky winner will be drawn and posted on my blog!
1. Start by washing and drying your Painters Drop Cloths normal settings. Take cushions off of your sofa seat. You may need at least 3 cloths. Get the better quality too.
2.
Lay out the cloth so it's even on all sides. Depending on what size you get and the size of your sofa, is which direction to lay out the cloth. Mine I turned long direction with the width of my sofa.
3.
Pull up so the front hemline is just above floor. If you see the back of your sofa, I suggest to start on the backside first, then even up the front side. Leave the arms of the sofa exposed.
4.
Now get another of the cloths and cut a large piece to touch the floor from the front of the arm around the whole side. The picture shows you how just on the side. But you will need to cover the entire front of the arm as well.
5.
Now fold up and over the extra main cloth, up and over the arms. And make sure everything is tucked in nice and neatly. Take your time.
6.
Then with your 3rd cloth (I used a chenille bedspread for this part) lay out very neatly so about 5-6" is laying where the cushions will be. Laying it neatly against the back of the sofa.
7.
Make it as neat as you can over the back of the sofa. This will make it easy to lay over the cushions.
8.
Now put the cushions back in place and pull the cover over the cushions. I always start in the center and work out. Take your time.
9.
Tucking in every little inch. And when you tuck, tuck it neatly and make everything as flat as possible. You won't see it, but you will feel it, and the cushions won't lay right. Look at every fold and make sure it's all nice and neat. Now get some pretty ribbon or twin. I used jute twine here. Pull the tie so it's dangling on the floor, back and around the backside of the arm to the back of the sofa. Now pull it through the tuck and down in the tuck of the cushion/arm area and through to the front.
10.
Now pull both ends so they are nice and tight and tie into a knot and then a pretty bow. Adjust the cloth so it looks nice and neat. And replace all of your pillows.
This stays pretty neat for quite a while! I have a very rambunctious little dog. She jumps, sleeps, terrorizes and plays on this sofa. I love it because I can pull the seat cover portion and toss it in the laundry as often as I like.
Here's my little sofa/pillow tormentor. She loves the sofa cover too!!! We hope you do too.
Please be sure to come back here and comment on how well yours turned out, email me a photo of it and I will enter you in a drawing for one of my pretty pillows!
Here are the only supplies you will need:
Canvas Dropcloth at Lowe's other hardware stores. About $20
Also at Lowe's jute twine about $3.00
Sharp Scissors - priceless LOL (do have some sharp ones though!)
Please be sure to come back here and comment on how well yours turned out, email me a photo of it and I will enter you in a drawing for one of my pretty pillows!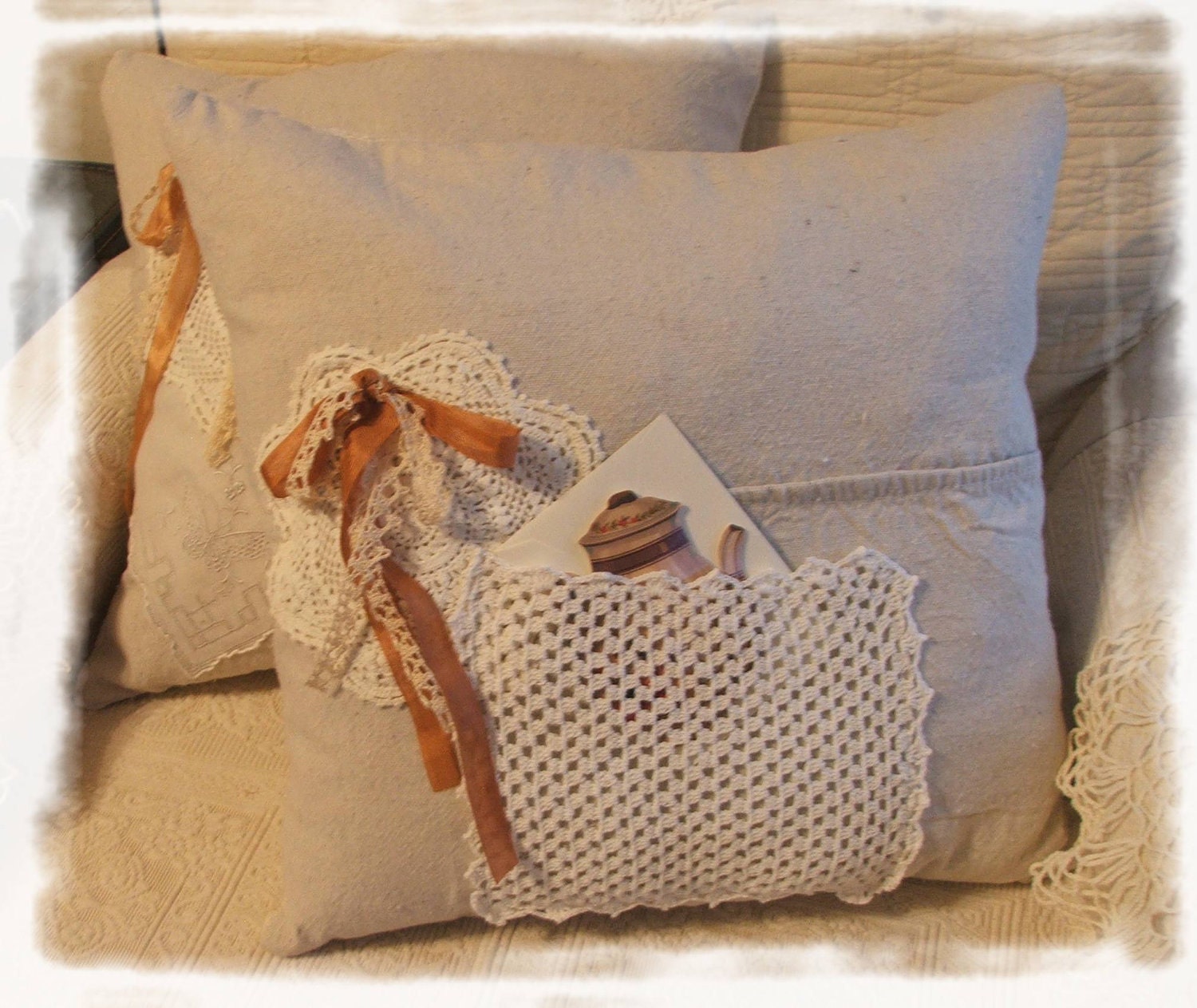 Happy Covering!! Ciao Bella's!!